Special Notice
Orna Mentz is Moving to a New Shopping Cart!
As of February 1st, all
Orna Mentz products will be available at:
www.USMarket.Gallery
Now Live and ready to go! Don't worry if you run into a few broken links while on Ornamentz.com - we'll get them fixed - just go to the www.USMarket.Gallery
website and start shopping!

let us know what you think!
We may experience a few snafus while making this transition, such as getting through checkout, etc. but it should all be up and running properly within a few days.
Please call 276-728-2778 if you would like more info, or if you'd like to place a phone order while we are getting it all organized.
Any orders that have been received prior
to Feb. 1st will process normally.


Sets of Three Ornaments -
After Christmas Specials! - 40% Savings!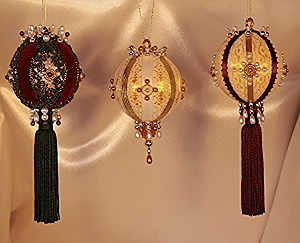 Burgundy Set of Three - $30.51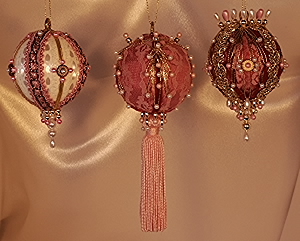 Mauve Set of Three - $29.91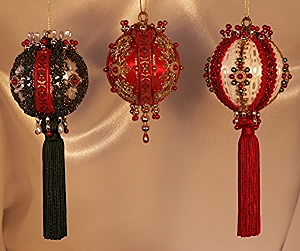 Traditional Red and Green Set of Three - $29.91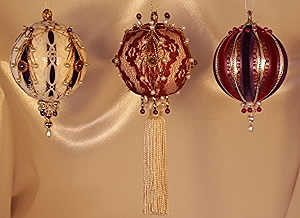 Purple and Burgundy Set of Three - $30.51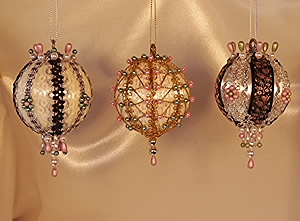 Pink and Green Set of Three - $27.51
~~~~~~~~~~~~~~~~~~~~~~~~~~~~~~~~~~~~~~~~~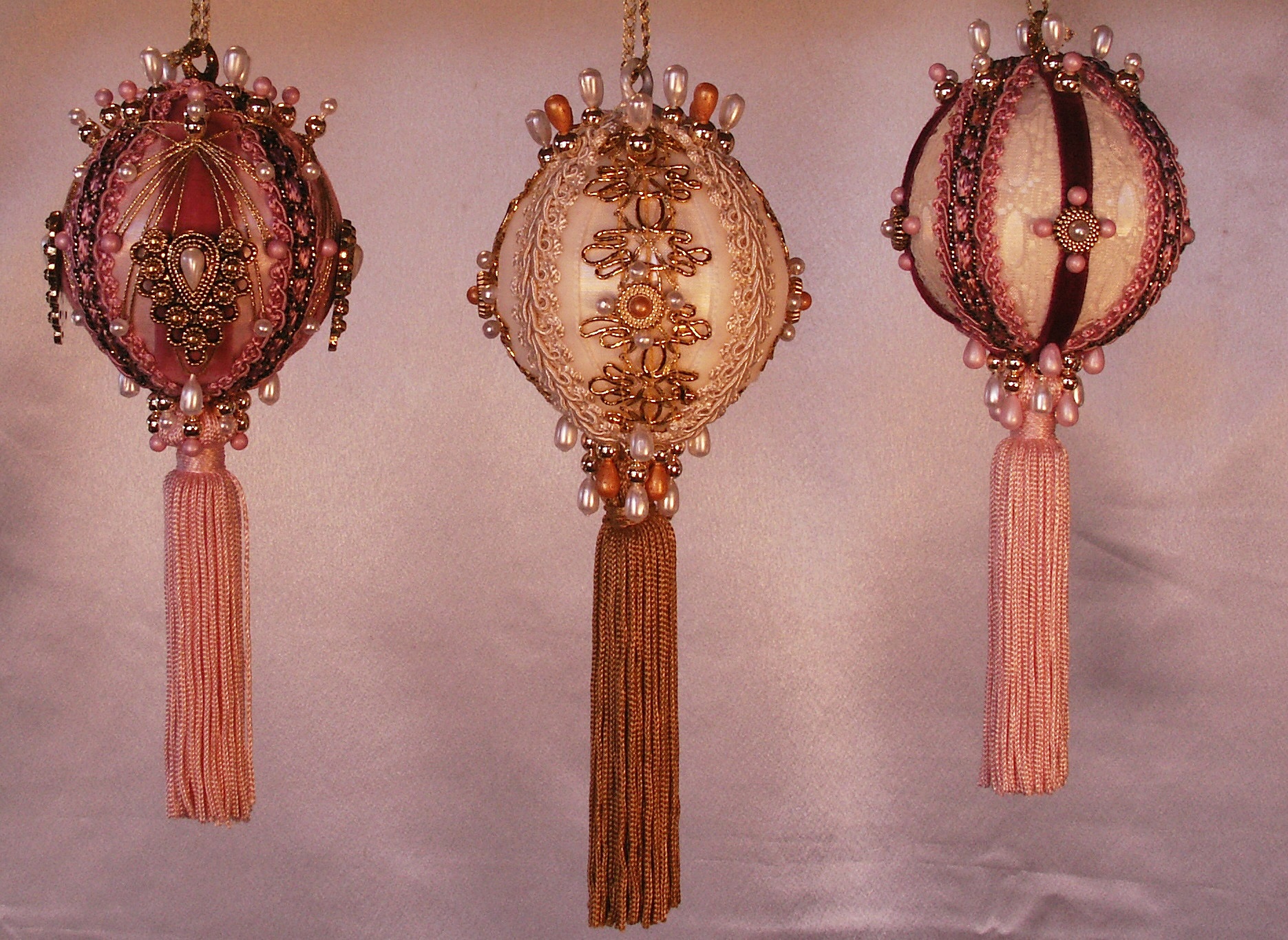 A Brand New Set of Three! Currently being featured in the California State Capitol!
Set comes packed in your choice
of a FREE 12" hatbox!
Choose Your Design from the list provided.
Get the Set!
Since 1992 Orna Mentz has been providing the finest Heirloom Quality Ornaments you will ever find, anywhere, and they are proudly collected and displayed in households
All Over the World!
View Ornaments by color and theme categories or
View all Ornaments on one page
~~~~~~~~~~~~~~~~~~~~~~~~~~~~~~~~~~~~~~~
Special Gift Set - 4 larger sized ornaments
packed in a Free 12" hatbox - only $60!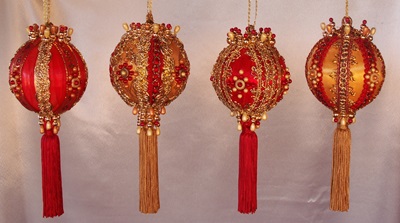 Pictured above is an all new special set of four ornaments
These are created on the larger base of 3" so overall size is app. 3.5" in diameter and
a full 8" from the crown top to the bottom of the tassel
more info
We offer our Own Designs of
Victorian Style Christmas Tree Ornaments
See them all!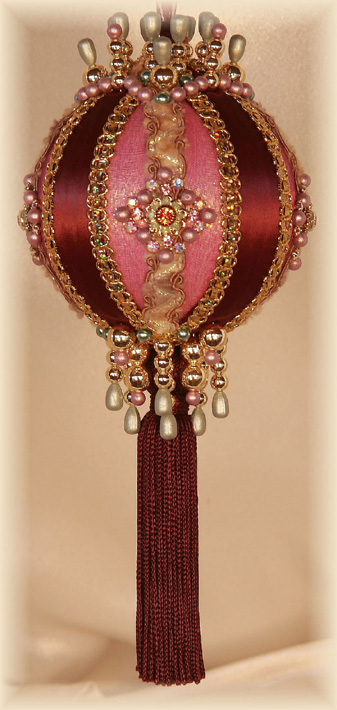 This Exquisite Ornament above is just one of the newest line of Orna Mentz -- the "Ornamentia" line! Each one comes Beautifully Gift Boxed, including a Luxurious Velvet Storage Bag, a Signed and Dated Company History Card and a Gift Card!
You Simply can't go wrong!
And they are all 100% Handmade in the USA
OrnaMentz Directory by Color and Theme
and a ton of other great Victorian themed gift and home decor products!
Browse the Entire Store
~~~~~~~~~~~~~~~~~~~~~~~~~~~~~~~~~~~~~~~~~~~~~~~~~~~
Don't forget to include our
e-mail
address in your 'allowed senders' list so that you can be sure our response, typically within 2-4 hours, will make it through your spam or junk filter and you'll get the message loud and clear!
Any questions or trouble? Simply
e-mail
or call us at. . . .
276-728-2778
~~~~~~~~~~~~~~~~
About The Designer
(Check out Jeanne Barnett's ad on www.HillsvilleFleaMarket.com)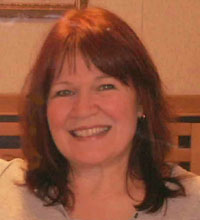 ~~~~~~~~~~~~~~~~
Where "Orna Mentz" Lives . . .
Fancy Gap, Virginia 24328 USA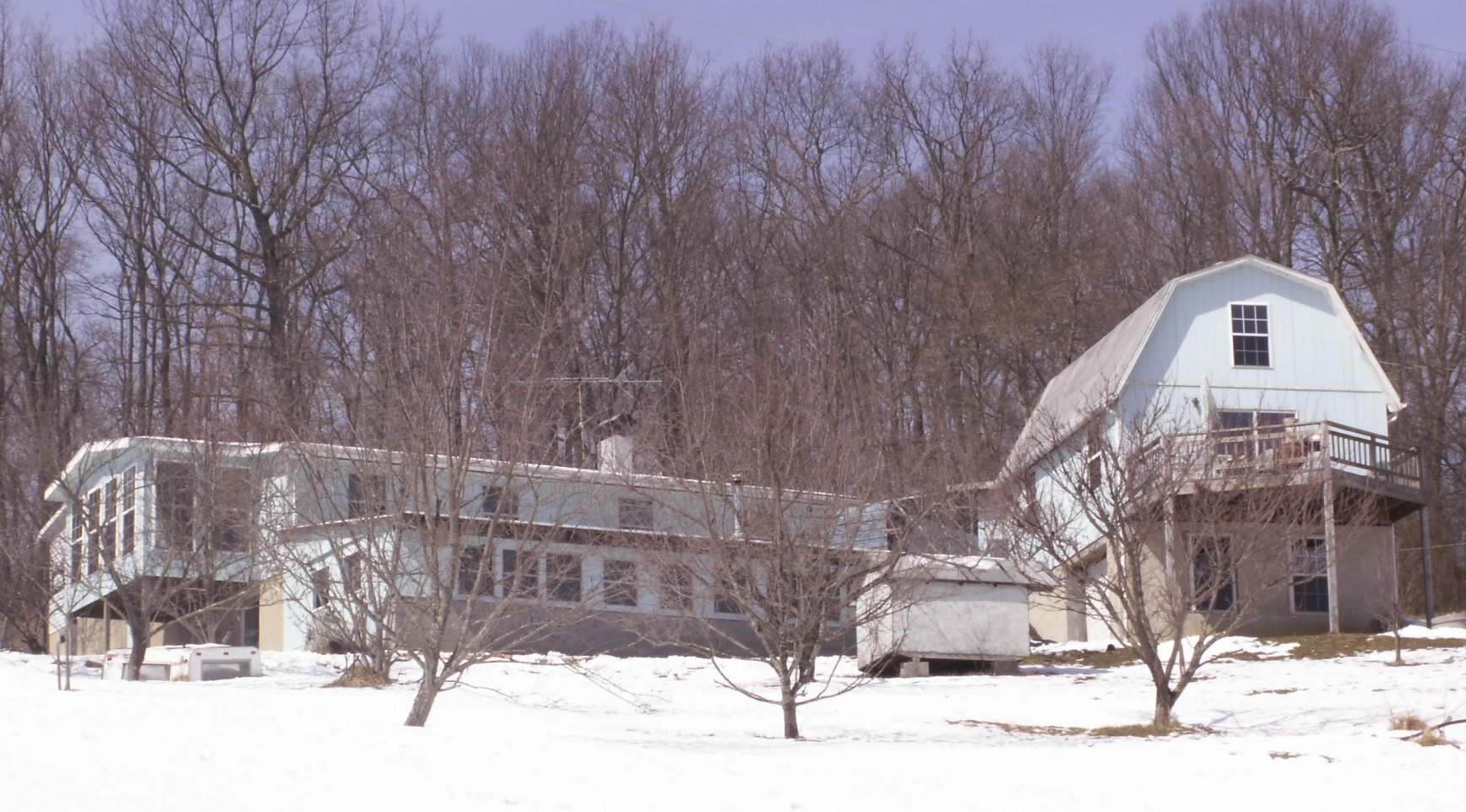 What "Orna Mentz" Has Been Up to . . .