More Victorian Products!
Browse by Department:




Click Below to
Go Back to the
Gallery of Hatboxes!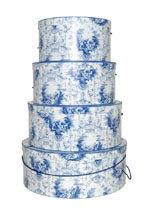 "Blue Toile"
(Please note, this is a discontinued design, we have some left in stock but not all sizes are available)
*Order as a single hatbox ~ three of the sizes
18", 16", 14" are still available to purchase individually
Just use the size links above to purchase one single hat box in the size that you want
all the hat box designs are individually listed in each size menu for easy ordering
or

*Click to Order Larger Set of 3 Hatboxes @ 40% savings! ~~ includes the 18" 16" and 14"