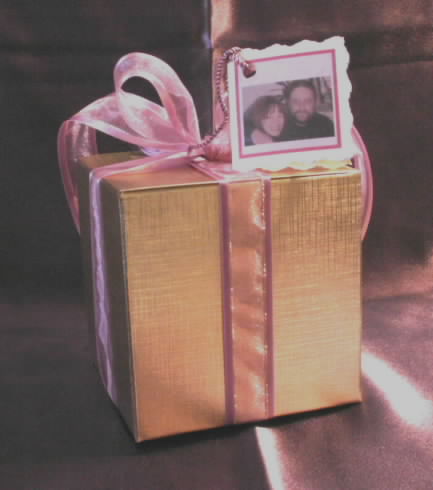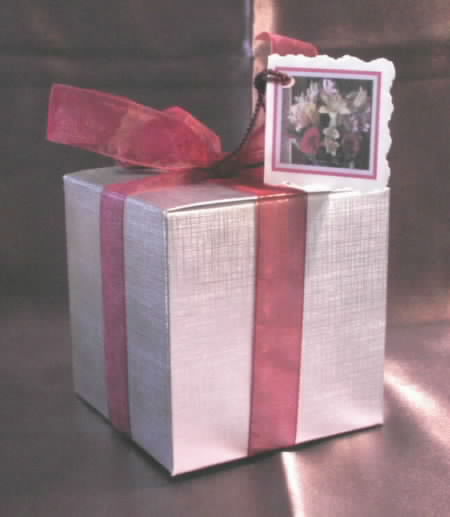 Mini-Card with your photo Mini-Card with Floral or other Graphic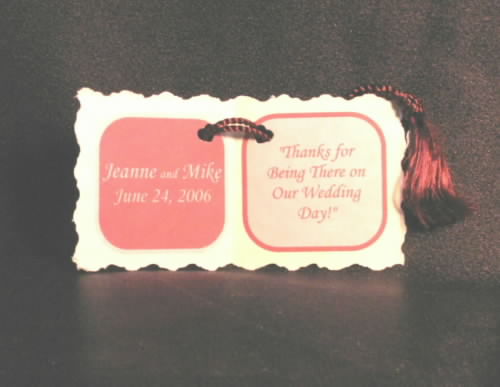 Inside of Mini-Card
The Card is 2" x 2" when closed and 2" x 4" when open
This option is only $1.00 more per favor! You can send us your photo or graphic, or have us pick out a graphic for you. The Mini-Card can attach to the top of the gift box as pictured, or you can put it inside the gift box. Each Mini-Card comes with a soft and silky little tassel cord, looped through a heart shaped opening, in a coordinating color.
Send an e-mail to request the photo tag and we will assist you in
designing the tag by inserting your photo onto a sample tag and sending you a picture of it over e-mail - or you can have it included as part of your wedding favor sample
Not Just for Weddings! This option is especially nice for businesses giving the ornament gift package as their Corporate Holiday Gift! You can have your Company Logo, or a photograph of your facility, or even a group photo of your company employees put onto the Mini-Card, and the inside can say whatever you want it to say! What a great way to personalize your gift, yet the ornament remains elegant for display on anyone's Christmas Tree.