Two Sizes of Orna Mentz - 2.5" Base and 3" base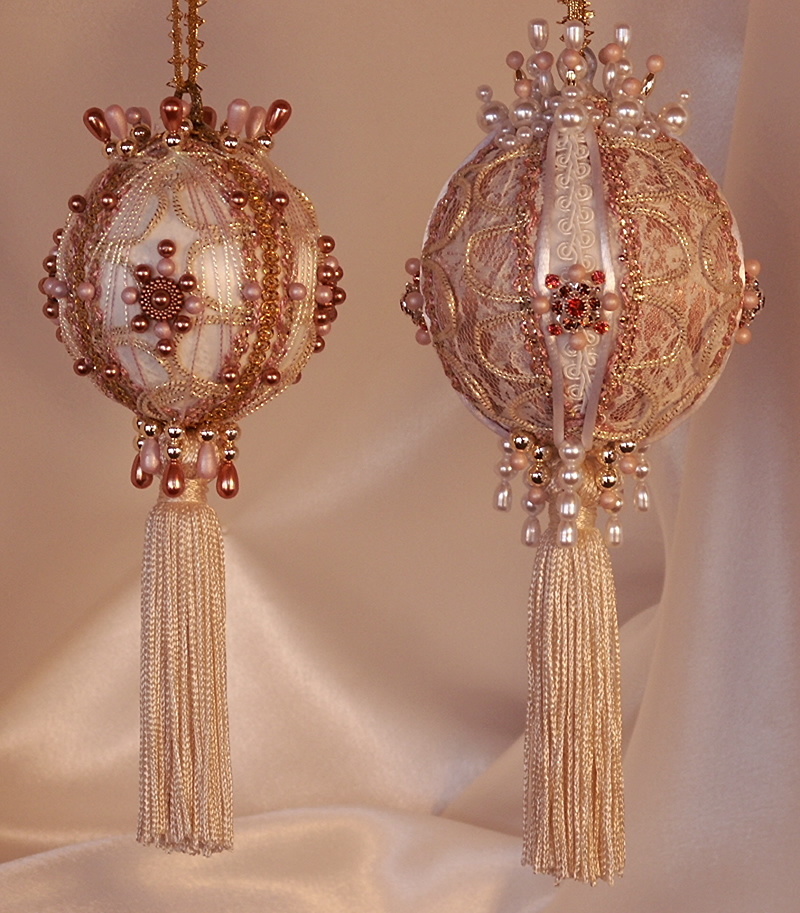 This picture represents a comparison of the two sizes of the ornaments
Ornament on the Left represents the size of all of our designs which have been created on a 2 1/2 inch Unbreakable ball.
The descriptions on the product pages state that overall size of the ornament is "app 3 inches in diameter" which takes into
account the increased size created by the addition of the trims and pearls and other embellishments.

Ornament on the Right developed in 2011 and designated as "Ornamentia" was created on a 3 inch also Unbreakable ball
and is described on the product pages as "app. 3 1/2 inches in diameter" and if you hold your measuring tape
up to the screen you can see in fact that the diameter directly across the edges of the
side embellishments comes in at just under 3 1/2 inches
It is a bit of an optical illusion but the ornaments were actually hanging directly
side by side when this photo was taken!
With the larger base, the designs in Ornamentia naturally demand a greater degree of
elaboration specifically at the crown tops and the tassel or chandelier style bottoms to
create the right balance of form. Ornamentia will also, in most all designs, incorporate
either Antique Reproduction Buttons, Rhinestones, and especially the use of
multiple hand set Swarovski Crystals. These ornaments are truly a spectacular Heirloom investment as
they are 100% unbreakable, come gift boxed with a velvet storage bag, and a
brief history card signed and dated by the Designer.
If you love Orna Mentz, you will simply adore Ornamentia!