More Victorian Products!
Browse by Department:




Handmade Victorian Style Christmas Tree Ornaments

by


Jeanne Barnett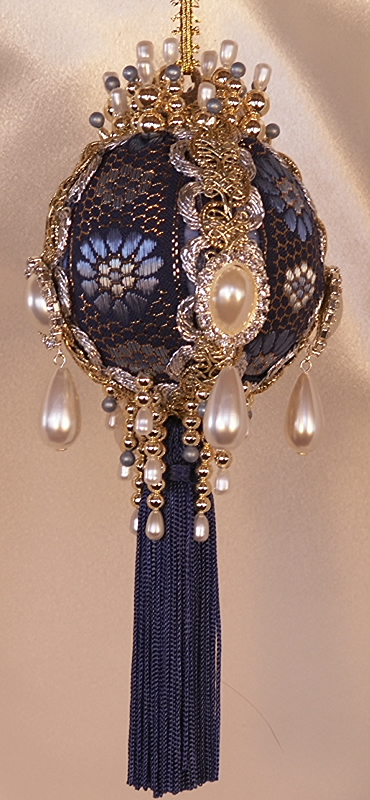 "Lady Pandora"
$43.95
"Lady Pandora" I found this amazingly beautiful Jacquard Ribbon at my favorite trim shop - it literally caught my eye from across the room, and this ornament will do the same thing on your Christmas tree! The detail and rich texture of the shades of blue and gold in the ribbon are truly exquisite. Finding a complimentary trim that would not cover or compete with this beautiful trim was not easy, but finally a combination of one silver and one gold did the trick! Lady Pandora evokes a mystery of dancing, naughty and nice with her elaborate crown of gold and blue, her swinging royal blue tassel bottom and her teardrop embellishments sparkling with 72!! yes seventy two 3mm stones in the purest crystal-faux diamond. With so much sparkle and style, Lady Pandora will definitely steal the show on your tree this year! CREATED ON A FULL 3" BASE, THE SIZE OF THIS ORNAMENT IS APP. 3.5 INCHES IN DIAMETER AND APP. 8 INCHES FROM CROWN TOP TO TASSEL BOTTOM.