*2011 - Ornamentia! (and back to basics) - Since 1992, all of the gorgeous Victorian Style Ornaments that I have been creating have been created on a 2 1/2 inch base. After numerous requests over the years for a larger sized ornament, I finally ventured into the idea and what a beautiful path to follow!
These two ornaments are actually hanging side by side-click on the pic for more info!

Created on a 3" base, it is amazing how much larger these ornaments really are! there is such a heavier more substantial feel in your hands, yet they don't actually weigh that much more, they work beautifully on all size trees and just have such an amazing presence, especially since they also incorporate glittering and amazing genuine Swarovski Crystals. I just love them! and truthfully, I do expect the Ornamentia line to become as massive as the regular line in time. Also I expect that a 3" base is only the beginning so stay tuned!
The "Back to Basics" part of this post (gee this is starting to sound like a blog!) is the fact that after almost 6 years of searching for other types of products to add to my website, and last year actually opening 2 more storefronts, I began to realize that I was straying further and further away from my 'First Love' - designing and creating beautiful Christmas Tree Ornaments! More importantly, our main supplier of framed prints has gone out of business, along with the candle company and one of the other wholesale outlets Orna Mentz was utilizing, so I guess you could say we are, by default, downsizing.
It was kind of a trial venture, the other storefronts, and I learned a lot, but from now on, the selections of other non-ornament items in my store will be limited. The hatboxes are holding strong, and we still have a pretty nice stock of small framed prints, wall decor, and unframed prints, but the focus of Orna Mentz will again be the Handmade Ornaments. It kind of feels like coming home again!
*2010 - October - What?? Not another website! Yes, and seriously, if you can't find what you want here at Ornamentz.com or VictorianRomanticHome.com, then . . .
Check this out!



Something New!
Not Just Victorian!
Here is a website that has a Gi-normous catalog of figurines, kitchenware, wall decor, nostalgia, gift items, and household decor items all at unbelievable "Flea Market" prices! Every single item is brand new, guaranteed to be in stock, and will be delivered to your door within 6 to 8 days



Check it out!

*2010 - July 1st - Orna Mentz original shopping cart changes and upgrades to a new and amazing ProStores shopping cart! Click this link to check out the new cart - www.Christmasballs.com - Christmasballs.com was our original URL when we went online in 1996 - Oh My Gosh has it really been 14 years?? We've held the Christmasballs.com name in a 'parking space' for a few years knowing that someday there would be a good reason to re-activate. Allowing the shopping cart to utilize the 'Christmasballs' domain name and our 'handwritten' pages to utilize the Ornamentz.com name gives us greater flexibility within the website itself for adding things such as a blog, a photo gallery for our customers' testimonials and wedding reception pictures for instance. We'd also like to have a Christmas tree contest! All of these ideas kind of required a separate place to be outside the shopping cart - so stay tuned!

*2010 - June 30th Orna Mentz opens it's second store! Thank you for taking the time to read about our new store venture! Starting with the unique and original Victorian Style Christmas tree ornaments in 1992, we have been in the "Elegant Home Decor" business ever since, and our store's mission has always been to find and list products and items that have that certain edge of Victorian style, elegance and charm. There are a lot of websites out there with wonderful things, but a lot of them seem to lack products that are not only elegant and romantic, but ones that are also practical, whimsical, functional, and delightful. With our new store www.VictorianRomanticHome.com ["VRH"] you will find a lot of really wonderful items with that criterion in mind. There are items being added right now to "VRH" that you won't see at Ornamentz.com - so check it out!

Why Two Stores? With the constant adding of new products, and still trying to maintain our core product - our own Victorian Style Christmas Tree Ornaments, this website was getting a little crowded. Therefore, www.Ornamentz.com will begin to return it's main focus on the ornaments, with special pages devoted to them, such as a page of Christmas tree images decorated with them (please send us yours!), and special limited quantity collections. Of course, there will be other products still offered on the site as we build the new store and attempt to make the transition as smooth as possible.

Eventually, www.Ornamentz.com will contain only the ornaments, but it takes time to move, as you can imagine. So please visit and shop at both stores. The checkout process will be separate - but shipping charges won't cost any more if you order decor items at www.VictorianRomaticHome.com and ornaments, prints and hatboxes here at www.OrnaMentz.com because both shipping table rates are identical and based upon total order amount.

Please feel free to send an e-mail with any questions, or leave a comment about our new venture!

*2009 - July 22nd "Ornament of the Month Club" officially launched!-
Here is how it works:

1. Simply add 12 ornaments to your cart, any ornament in the line, and go through checkout as you normally would. Then send an e-mail that says you wish this order to go on the "Ornament of the Month Club" payment plan, and then just mention the 4 digit invoice number displayed on your e-mail copy of the invoice that you received after going through checkout. You will receive a return e-mail confirming your OMC membership.

2. Then, you will only be billed exactly 1/12 of your order total that same day, and then again on the same day of the month that you signed up, for the following 11 months. Each month's shipping costs are all included in your initial order total, there will never be any additional amount charged to your card for the shipments.

3. You will then receive one of your ornament choices in the mail every month app. 6-8 days after your credit card has been billed. As a special bonus to club members, you will receive your ornament in a beautiful gold gift box, tied with an organza ribbon, at no extra charge!

4. You can cancel at any time by just sending an e-mail, and you will receive no further billings. All ornaments are guaranteed 100% satisfaction, or you can return for a full refund or an exchange. You can also change your ornament choices at any time by just simply sending an e-mail.

Please e-mail us with any questions! We welcome all comments and/or suggestions!

*2009

Well, not much can be said about our new facility that the following picture won't describe in a better way: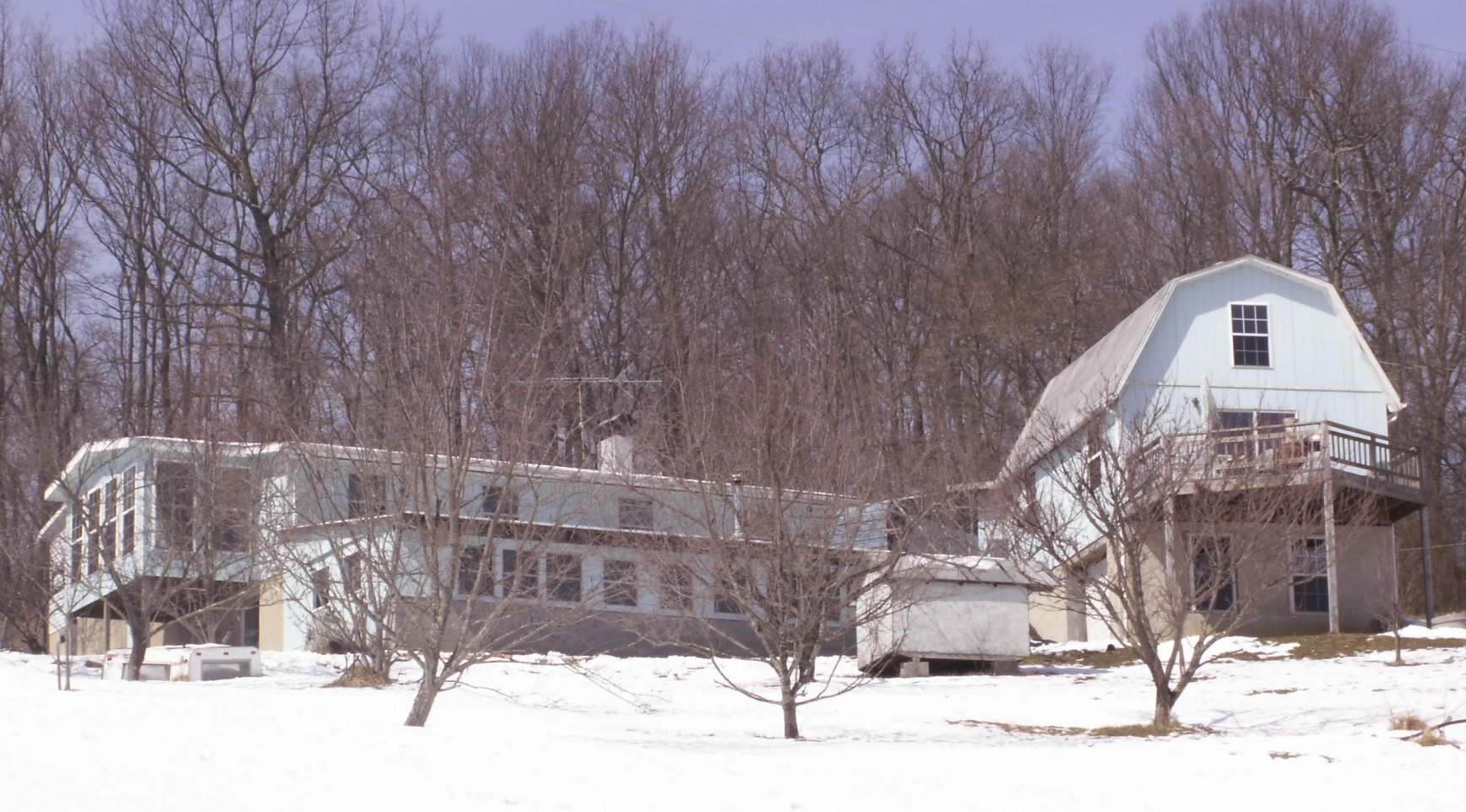 .
It was a very difficult transition - not only for the massive physical move, but the economy going into a slide right as we needed to sell our former facility in Delaware. As many of our wonderful customers know, it took a full 18 months before we could get out from under the burdens of double mortgage and utility payments, while at the same time trying to build up our inventory and hire qualified help - all on a shoestring! But we weathered the storm and the reward is pictured above in the form of a 2,000+ square foot main facility (encompassing all of the lower level of the main building) with the addition of multiple outbuildings for future projects and plans for the expansion of the Orna Mentztm line of quality handmade Victorian ornaments, artifacts and home decor.
Many thanks to everyone for their continuing support! Without you, we just wouldn't be!
*2007
Moving Day! July 4th! We Began our caravan west to the beautiful Blue Ridge Mountains and began to settle into our new facility in Southwestern Virginia. The new facility is 10 times larger than the one in Delaware and the move itself was proven to be QUITE a challenge! But finally, by September 2007, we were fully settled in and ready for the next chapter in the Orna Mentz Jouney! Stay tuned! Pictures of the new facility will be available soon.
*2005
The HBO Special, "Warm Springs" depicting the life of Franklin Delano Roosevelt gave us our third and very visual television experience by using our ornaments in the scene where they are decorating their Christmas Tree. It was very exciting to see the Christmas tree in that scene literally covered with our gorgeous ornaments!
*2004
The Smithsonian Institution - this world famous historical attraction located in Washington DC, USA, chose our Handmade Victorian Style Christmas Tree Ornaments to be displayed on their Early American Heritage Tree. What an Honor!
Also in 2004...Dr. Christmas' Christmas Coffee Table Book – Titled "Christmas Style" by Debi Staron and Bob Pranga (a.k.a. "Dr. Christmas"). This beautiful hardcover book displays the beautiful Christmas Tree Designs of Bob Pranga and Debi Staron, 'Designers for the Stars'. Such themed trees as "The Bette Davis Tree" found beautifully photographed in this book have incorporated many of our beautiful Christmas Ornament designs in the most unique and artful way that only Dr. Christmas can achieve. For more information on the book, click here.
*2003
HBO's "Sex and the City" In the Summer of 2003, Episode 3, Season 6, remember when Charlotte decorated her last Christmas tree before converting to Judaism? Remember when she plucked the little blue ornament from the box of GORGEOUS VICTORIAN ORNAMENTS? Those ornaments were none other than the beautifully Handmade Victorian Christmas Tree Ornaments by.... Orna Mentz
*1996
Orna Mentz began selling on the Internet and Internationally. These beautiful Victorian styled ornaments have been shipped worldwide, including growing popularity in Sweden, Ireland, Switzerland, Belgium, Japan, England, France, Italy, Canada, and virtually every State in America.Every year brings us in contact with many new and exciting places and people.We hope to include you on our growing list of admirers!
*1995
QVC 50-50 Tour-- This was similar to an American Idol of the small manufacturing business community in America. Competing against hundreds of vendors in Delaware, Orna Mentz was chosen as one of only 20 to appear on National Television with the very popular home shopping network QVC with 5 minutes of airtime.
IN ONLY FIVE MINUTES, retail sales were over $36,000! We were completely sold out, and even took a bunch of backorders. Appearing again on QVC is not out of the realm of possibility in the future, but we are now able to offer our beautiful ornaments at the very best price directly to our customers right here on the Internet.
*1992
Before the Internet - The totally unique handcrafted Victorian styled ornament designs of Jeanne Barnett, through her business, Orna Mentz, which was then a Wilmington DE, home-based small business, appeared in such noteworthy places as:
Longwood Gardens, Pennsylvania
Mid-Atlantic Center for the Arts, Cape May, New Jersey
Peddlers Village, New Hope, Pennsylvania
. . .And many other top-notch retail markets in the Delaware, New Jersey and Pennsylvania, USA regions.